---
---
The dogs
Soyeux Bichons
---
Bichon Frise are small (approximately 5.5 to 8 kg) and sturdy, basically, white powder puffs when properly maintained. They have dark eyes and an intelligent expression. Their plumed tail is carried jauntily over their back and attests to their merry temperament. They deport themselves with an overall air of grace and dignity. Friendly, affectionate, alert, playful and athletic, Bichons make wonderful companions. A cheerful attitude is the hallmark of the breed. They are non-shedding so they are considered hypoallergenic but their constantly growing hair does require a lot of regular grooming. Bichons kept as pets are often kept in what is described as a pet trim. Their hair is cut much shorter which reduces the frequency of grooming appointments. The hair is left much longer on Bichons used for show. They maintain the true powder puff appearance. But care must be taken because that long hair can mat up very quickly if they aren't regularly groomed.
---
---
I purchased my first Bichon Frise puppy in 2018. I got busy learning how to show dogs and yet another obsession was born. She finished her Canadian Kennel Club (CKC) Championship in 2019. Sophia (Bellissimo Armani Di Seta Parlare) was bred for the first time to a Stirling Bichons male (Stirling Synchronic) in 2021 and our first litter of five puppies was born uneventfully at home in Canada on October 20, 2021.
As a responsible breeder and someone that cares very much about all the animals living in my care, I made sure that Sophia was worthy of producing puppies by finishing her CKC Championship (conformation) and having her health tested (eyes, hips, elbows, etc.), prior to breeding her. The results of her health testing can be seen at The Orthopedic Foundation for Animals (OFA), a canine health information centre. If you are looking for a puppy, I encourage you to select a breeder that works with the OFA organization and sells registered dogs as an active breeder/member of the Canadian Kennel Club or the American Kennel Club.
Soyeux Bichons is so pleased to be partnering with Paul Flores and Kim Furling of Stirling Bichons in Ohio. The sires of Soyeux litters are all hand picked by Paul with pedigrees that complement the females here. Our goal is to produce not only future champions but, more importantly, top quality, happy, healthy, and sound Bichon Frise.
Soyeux Bichon puppies are registered with the Canadian Kennel Club, microchipped, crate trained and leash trained. They are raised in my home and are well socialized with day to day family life including riding in the car, grooming, cats, children, and unrelated dogs. They are truly cheerful, happy go lucky, fluffy little dogs that would make a wonderful addition to any family.
Contact me if you would like more information about Soyeux Bichons.
---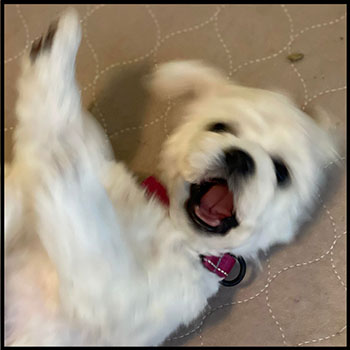 ---
---